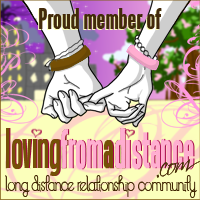 -Special "Military LDR" section!

-Long Distance Advice

-LDR Workbook

-99 Things to do From a Distance

-Gift Ideas/

Forum/Blogs

-Print out FREE stationary

-Love Lettera/Quotes/Songs/True Stories

-Purchase merchandise! (t-shirts, bracelets, love letter satchels...)

-LDR Giftpacks sent to 2 addresses (even military addresses!)
If you're a military sweetheart then you've been in a long distance relationship (LDR), are currently in a LDR, or will be in a LDR at some point in the future (can you say, deployment?)
Loving From a Distance
(LFAD) is a
great
source for LDR couples! I've already listed some of the things LFAD offers, but why don't you check it out for yourself! I'm definitely purchasing an LDR Giftpack for my Sailor! We've been in a long distance relationship even before he joined the Navy. We'll be going on "officially" 4 years this coming July.
LDR History

+

Military

+

Deployment

=

My crazy beautiful life
I'm sure a lot of you can relate...
My fiancé is deploying soon & my top 3 deployment resources will be the FRG, Ship Ombudsman, & LFAD!